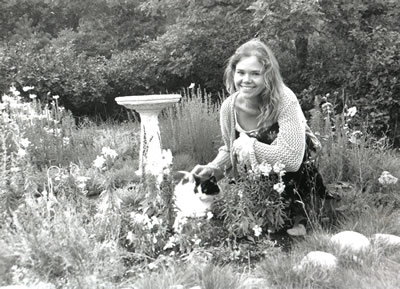 Jenifer Strachan
It was my first trip abroad that introduced me to the architectural creations and the fantastic environments of Antonio Gaudi in Barcelona. The fearless scale of his work had a great impact on me; entire rooftops, building facades, and undulating benches encrusted with mosaics. I was inspired enough to take on the challenge of designing and creating a fifty foot broken plate mosaic bar for a restaurant in Northampton, M.A. The restaurant was scheduled to open in a couple of weeks, which it did successfully.
Right from the beginning, I enjoyed working with mosaics in the pique assiette tradition, which loosely translates to "stolen from dishes". I found that I was able to express great detail in the medium and use it in a figurative way. Veins in leaves and butterfly wings could be illustrated in the interstices between shards. Flowers could have expressiveness. Birds and snakes could look right back at you with a certain crack of a plate.
Always a collector by nature. Accumulating stacks of old dishes to use as a palette comes easily for me. Others seem to enjoy making gifts of their "ruined" china rather than throw them away. Rarely a week goes by without such an offering being left on my doorstep. Knife scrapings, worn gilt edges and accidental chips, all potential reasons for a dish's abandonment, are left as evidence in the final works of art.
Each mosaic is envisioned in its entirety before I begin. Being a self-taught artist, I learn as I go along, enjoying coming up with original solutions to technical problems. Every mosaic represents a feat of patience. Hours can be spent on one small section. Others, move along quickly. The diversity of my approach to the medium attracts unusual and varied commissions; from large circular pools installed in a botanical garden to a miniature portrait of a woman.